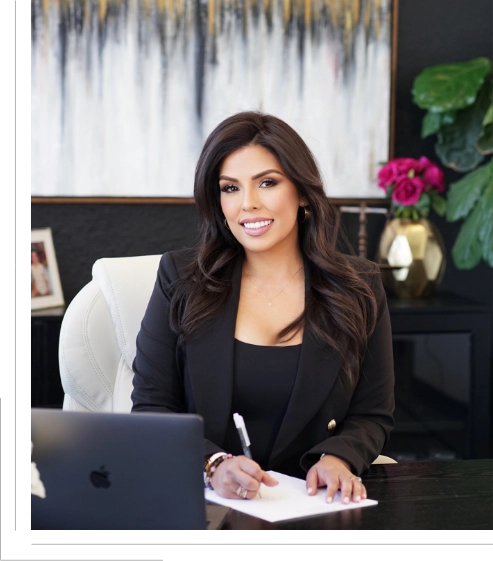 I am proud to represent the good people who live and work in the same community that I call home. You can trust Trevino Law Firm to treat you with respect and work to get you great results.
Palmdale Personal Injury Lawyer
Your Trusted Personal Injury Law Firm in the Antelope Valley
Dealing with the pain and financial setback of a personal injury can seem overwhelming at first. The consequences of a car or truck accident can be devastating and upend your life in so many ways. At Trevino Law Firm, we understand that life after an accident isn't just about recovering from your physical injuries but also about overcoming the emotional and financial hurdles that follow. As a leading Palmdale personal injury law firm, we take pride in serving injury victims throughout the Antelope Valley, including Lancaster as well as smaller communities like Littlerock and Lake Los Angeles. You shouldn't have to go through this difficult period alone, and you don't have to; Trevino Law Firm is here to make sure you get the care and compensation you need to get the best recovery possible. Call our experienced Palmdale personal injury lawyer today.
Effective Representation Across the Spectrum of Personal Injury and Wrongful Death Claims
Our firm's practice covers a wide range of personal injury and wrongful death cases in Palmdale, Lancaster, and surrounding areas. Some of our major areas of focus include:
Car Accidents: From minor fender-benders to catastrophic collisions, we help you navigate the complexities of auto accident claims. Whether hit by a drunk driver, a drowsy or distracted driver, or by one of the more than 16% of uninsured motorists driving on California roads, Trevino Law Firm will help you hold negligent drivers fully accountable for the harm they've caused, including your present and future medical expenses, pain and suffering, and the countless ways their negligence has impacted your life.
Truck Accidents: Interstate 5, State Route 14, and SR 58 are just a few of the popular routes for single and double tractor-trailers transporting goods through California. The large numbers of 18-wheelers on the road and the geography of driving in and out of the valley create innumerable dangers for motorists sharing the road with the big rigs. When commercial trucks are involved in a crash, the damage is often severe and the stakes are high. Our experienced team understands the specifics of truck accident cases and ensures you get the compensation you deserve.
Motorcycle Accidents: While navigating the Pearblossom Highway, the Antelope Valley Freeway and other roads, whether commuting to and from LA or taking a weekend ride, the Antelope Valley is extremely popular with bikers, but the risks of serious injury in a crash are huge. We understand the inherent bias so common against motorcyclists, and we work to establish the negligent driver's fault for the full extent of the damage done.
Premises Liability: Slip and fall at a store? Injured on someone else's property? We hold property owners accountable for their negligence. From dog bites to assaults, we devote ourselves to building a strong case that proves the property owner's liability to you. Insurance companies want to deny that you were hurt or claim the property owner isn't responsible (even alleging that your own negligence was to blame), but our experienced legal team knows the law and how to present the facts to obtain justice and compensation on your behalf.
Why Choose Trevino Law Firm
At Trevino Law Firm, we know that you have choices when it comes to selecting a lawyer to handle your personal injury claim. While we focus on getting great results, we also believe that paying attention to clients and making sure they are heard and cared for is equally important. Here are some of the qualities you can expect at Trevino Law Firm:
Compassionate Legal Guidance – From our lead attorney to our dedicated staff, Trevino Law Firm embodies empathy and compassion, treating every client like a person, not a case file number. Unlike bigger firms that may shuffle you from one associate to another, Trevino Law Firm pays meticulous attention to each client and their claim. Your case won't get forgotten or turned over too quickly. We work diligently to resolve your case as efficiently as possible while ensuring that you get what you need and deserve.
Woman-Owned Firm with Community Roots – We're proud to be a woman-owned law firm serving Palmdale and the Antelope Valley. Darlene Trevino is an active and committed member of the community; in fact, you've probably seen her out and about at community events. When you work with us, you're not hiring some faceless law firm; instead, you are partnering with an experienced legal professional who happens to be a real person who understands you and your community's values and concerns.
Bilingual Legal Support – Serving a diverse community means breaking down language barriers. Darlene and her staff are fluent in both Spanish and English, ensuring that both Spanish-speaking and English-speaking residents of Palmdale, Lancaster, and the surrounding areas receive top-notch legal support while communicating in their preferred language of choice.
Your Path to Justice Starts Here
Navigating the intricate landscape of personal injury law can be daunting. With Trevino Law Firm, you're not just another case file; you're a person deserving of justice and compensation. Let us guide you through the complexities of your case while you focus on healing and recovery.
Contact Us Today
Don't wait to get the help you need. Contact Trevino Law Firm for a free consultation and take the first step toward justice and recovery. Call 661-526-5012 for a free consultation. There is no fee until we recover compensation for you. A serious personal injury can be a life-altering event, and choosing the right personal injury lawyer can be a life-altering decision. Let the Palmdale personal injury attorneys at Trevino Law Firm be your guide and advocate on the path to recovery and justice.