5 Steps to Take Following a California Car Accident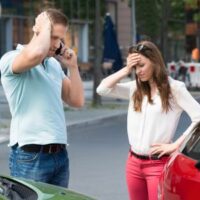 Nobody expects to be involved in a car accident. But when one happens, you must be prepared to take certain steps to protect yourself and your family. If you are injured or suffered property damage, you have the right to seek compensation from the negligent driver who caused the accident. Here are five steps you can take following a car crash to help preserve that right.
Remain at the Scene
Anytime there appears to be personal injury or property damage due to a car accident, all of the drivers must remain at the scene and contact the police. If you leave the scene of an accident before the police arrive, you can be charged with a criminal offense under California law. And if the other driver leaves or flees the scene, your decision to remain can still protect your right to claim certain insurance benefits.
Get Checked Out by a Doctor
Obviously, if someone needs emergency medical attention, do not wait for the police. Call 911 and get an ambulance to the scene right away. But even if you do not require immediate care, it is still advisable to get checked out by your primary care doctor or at your local urgent care clinic as soon as possible following a car accident. There are many serious injuries that may not be immediately obvious to you at the accident scene. And if you wait a few days or weeks before going to the doctor, that can undermine a subsequent attempt to seek compensation for your medical bills from the negligent driver or their insurance company.
Take Down Information
While you wait for the police, you can take steps to record as much information as possible about the accident. Use your smartphone to take a picture of your vehicle and the other vehicles involved, including their license plate numbers. Take down the name and contact information for any witnesses who might have seen what happened. Remember, you also need to exchange basic contact and insurance information with the other drivers.
Never Apologize
Some of us instinctually apologize whenever there is an accident, even if we do not know what really happened. It is critical to avoid this kind of response following an accident. If you apologize, it may be treated as an admission of fault. The other driver's insurance company may use your spontaneous admission as "proof" that their driver was not responsible for the accident. The last thing you want to do is undermine your personal injury claim before all the facts are known.
Contact a Palmdale Personal Injury Lawyer
The aftermath of a car accident often raises a number of collateral issues, including dealing with medical bills and insurance companies. You do not have to deal with this on your own. An experienced Palmdale car accident attorney can review your case, advise you of your options for seeking compensation, and represent you in dealing with insurance companies and the other driver's legal counsel. So if you have been injured in an accident and need to speak with someone, contact the Trevino Law Firm today to schedule a free consultation. We serve clients in Palmdale, Lancaster, Littlerock, and Lake Los Angeles.