Who Can File a Wrongful Death Lawsuit in California?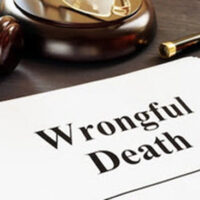 If you are injured in an accident caused by another person's intentional or negligent actions, you can file a personal injury lawsuit and seek compensation for your losses. But what happens when someone dies as a result of a wrongful act? A deceased individual cannot sue. And what about family members who are suffering as a result of the sudden loss of their loved one? Do they have the right to take legal action against the wrongdoer?
In California, there is a special type of personal injury claim known as a wrongful death action. State law establishes who can file a wrongful death lawsuit and recover damages. Specifically, it allows the following survivors to assert a wrongful death claim:
the decedent's surviving spouse or registered domestic partner;
the decedent's children, or the children of any deceased children;
any other minors, such as stepchildren, who depended on the decedent for at least 50 percent of their financial support; and
any other person who would be entitled to inherit the decedent's property under California intestate succession laws (i.e., heirs who inherit in the absence of a will).
The personal representative of the decedent's estate may file the actual wrongful death lawsuit on behalf of all of the persons entitled to recover. Separately, the personal representative may also file what is known as a survivor claim. Unlike the wrongful death claim, which is meant to compensate the survivors for their losses, the survival claim is designed to seek compensation for the decedent's losses prior to their death, such as any final medical expenses.
What Damages Can the Survivors Recover?
In simple terms, the survivors in a wrongful death action are entitled to the value of the support they would have received from the deceased had they lived. This includes both economic (tangible) and non-economic (intangible) damages. Economic damages cover the financial support that the decedent would have provided based on their life expectancy at the time of the defendant's wrongful act. Non-economic damages include the loss of the decedent's society, companionship, moral support, and even sexual relations.
While a judge or jury is typically free to award non-economic damages for wrongful death as they see fit, there are some restrictions. For example, an award of damages may not be based on the survivors' grief or sorrow over the loss of their loved one. And except in cases involving felony homicide, survivors may not recover any punitive damages through a wrongful death claim. (Such damages may still be available in a survival action.)
Contact a Palmdale Wrongful Death Attorney Today
No amount of money can compensate for the loss of a loved one. But holding a negligent or criminal party responsible for their death can provide a measure of peace and security for your family. If you need to speak with a qualified Palmdale wrongful death attorney, contact the Trevino Law Firm today to schedule a free consultation. We serve clients in Palmdale, Lancaster, Littlerock, and Lake Los Angeles.